PAINTING MILES OPEN STUDIO
Hosted by artists Mónica Linares and Beth Carrington Brown
Mónica and Beth wanted to create something more than an open studio; they wanted to create a time where all-level artists could come together to add "mileage" to their painting, be guided and supported by other artists, and have some time to discuss and learn about important art topics and well-known artists … in other words, to create a whole painting experience.
NEXT SEASON DATES: TBD
Join us for our unique open studio! We offer more than two hours of creating in a supportive group setting in an actual art studio. You'll have space and time to share ideas and get some painting done! We will spend up to 30 minutes at the beginning discussing one specific area of interest for painters (color, value, great artists, etc.) and then paint the rest of the time. Artists Mónica Linares and/or Beth Carrington Brown will be available to offer gentle guidance and answer questions as needed. If you are new to painting, please go to Fast Start before you register for our unique Open Studio.
During each Painting Miles Open Studio season we will also offer visits by guest artists, plein air sessions (weather permitting), monthly quiet painting sessions, demos, still life set ups, monthly critiques, etc.
We meet most Tuesdays from 9:30am to 12pm. We usually take a break in between seasons and a month during the Summer.
Painting Miles Pass: Season $168 (7 sessions per season) + 1 make up day if you miss a session | Drop in: $30 | please e-mail us before the class if you are dropping in | Late registration fee $15 (if spots available)
LOCATION: Anchorlight Raleigh
DATES: TBD
Bring your own supplies and portable easel! (Need guidance with supplies? Let us know!)
E-MAIL US about Painting Miles Open Studio at: paintingmilesNC@gmail.com
Painting Miles Open Studio Hostesses Bios
Mónica Linares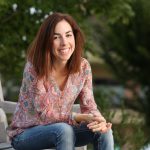 I paint because I LOVE it. I enjoy creating, I love colors, combinations, a challenge, experimenting and making a space happier. I enjoy bringing JOY! So, that is what you'll see in my paintings.
Born and raised in Venezuela, Mónica was always surrounded by paint and brushes thanks to an artist father. With a background in advertising, she was constantly in contact with design, color and style; but it was not until 1999, when she formally started her formation as a painter at the Pittsburgh Center for the Arts. Her painting education never stops as she continues learning and being inspired by wonderful artists as Catherine Martin, Carol Marine, Maggie Siner, Patti Mollica, Lisa Daria and Colley Whisson among many others. Mónica has a graphic style and many have called her a colorist.
You can check her work here.
Beth Carrington Brown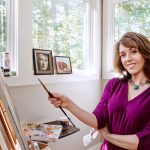 My paintings usually have a story to tell, and the voice you often hear is color. The paintings become even more meaningful when a person connects to it and continues the story for themselves.
My style of painting is evolving as I continue to explore all angles of painting. I don't want to be boxed in or categorized into one area – landscape or figurative, Impressionist or modernist. I allow myself to experience the whims of creativity. I am simply having too much fun! I enjoy watching the changes and evolution of my work. I particularly enjoy looking back at my earlier paintings when I knew no "rules" of art. Now, I hope to keep that freshness and "no boundaries" feeling when I paint.
I paint because I am thrilled by the challenge I encounter every single time I pick up a brush. It is simply a thirst that cannot be quenched. There is more to know and experience with painting than I can get through in a lifetime; but, each day, I am going to love trying.
You can check her work here.