Description
DATE: Tuesday February 25th, 2020
TIME: 10:00 am – 12:15 pm
FEE: $25
LOCATION: 1401 S. Bloodworth St. Raleigh, NC 27610
WHAT TO BRING:  keep reading, you'll find a suggested supplies list below. We got easels and side tables!
STUDENTS: max. 10, minimum 6
LEVEL: All levels are welcome! Basic knowledge of painting is recommended.
ABOUT 6X6
We created 6×6 after a wonderful group of artists working on becoming daily painters (from our Happy Habit class) requested a way to stay in touch, motivated, in painting shape, and inside a daily painters (or most day painters) tribe! We artists know how lonely the life of an artist can be. In our studios (and our heads!) all the time! Thinking, solving, seeing, creating, and knowing how much we need connection with other thinkers and creators to feel supported (and understood!). We need to build a community of like minded people!
Come to 6×6 to connect with your peers and stay for up to 2 hours of painting! Artist Mónica Linares will guide you to finish at least 2 paintings during each 6×6 session. Feel free to work on any other painting project if you prefer. We suggest painting on 6×6″ panels as most daily painters do! It is a format that allows daily painters to start and finish a painting in one day.
This will also be a place to share information about opportunities for painters, exhibitions, lectures and anything that can keep us motivated to paint daily.
All levels are welcomed! Basic knowledge of painting is recommended.
Bring your own supplies.  READ BELOW SUGGESTED SUPPLIES TO BRING.
Acrylics and oils are welcome (no solvents or mediums allowed, use walnut oil if needed 😉 Exercise will be explained in acrylics.
Mónica Linares, with a background in advertising, has been officially painting since 1999. She has learned from many wonderful teachers like Cathy Martin, Carol Marine, Patty Mollica, Lisa Daria, Maggie Siner, Colley Whisson, David Skinner and Carlos San Millán, among many other incredible people. She paints with acrylics, and loves to paint flowers, interiors, or landscapes with bright colors and a graphic style, simplifying what she sees as much as she can, and leaving just what's important. Her paintings can be found online and at the North Carolina Museum of Art Store. She also runs Painting Miles and created the Happy Habit class.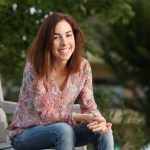 SUGGESTED SUPPLIES LIST
Feel free to bring what you have at home, this is just a suggested list.
Photos to work from ( SIMPLE SUBJECTS, and preferably taken by you); I might bring photos for you to work from but better to also bring your own.
Flat brushes from #2 to #8 (Silver Bristlon is a good brand)
Lukas, Golden or Liquitex acrylic paint
Cadmium Red deep
Alizarin Crimson
Cadmium Yellow
Cadmium Yellow light or Lemon Yellow
Ultramarine Blue
Pthalo Blue or Cerulean Blue
Raw Umber
Titanium White
Water Bucket
Paper towels
Water Spray
Palette (I like the  stay wet Masterson palette, but anything will work, even wax paper. If buying a Masterson palette, buy the big one, you'll have more room to mix)
6×6 inch surfaces to paint (canvas or panels). I like this panels . Stay away from Soho panels.
CANCELLATION POLICY (NEW!)
If  we don't reach the minimum amount of students for this class to happen the class will be canceled and students will receive a full refund.
If you cancel less than 2 weeks prior to the start of this class you wont receive a refund. If you cancel before this time you will receive a refund of 50% of your class fee.
INCLEMENT WEATHER POLICY (NEW!)
Class will be canceled or rescheduled if inclement weather (hurricanes, snow storm, tropical storm, black ice, flooding, etc.) is on the forecast. No one should take any unnecessary risks. If the class is canceled, all registration money will be returned to the students minus 3% processing fee.  The class will be rescheduled if possible.