Description
DATE: Friday May 3, 2019
TIME: 9:30 am – 10:30 am
FEE: $15
LOCATION: 1401 S. Bloodworth St. Raleigh, NC 27610
WHAT TO BRING:  Your yoga mat and a block if you have these; if not, we will provide them! And don't forget your water bottle.
STUDENTS: max. 14, minimum 8      ___________________________________________________________________
PAINT RIGHT AFTER YOGA: Do you want to stay a little bit longer and paint right after yoga? Then register HERE for our 6×6 Art Community! Up to two hours of painting on 6×6 panels (or any size you like) to support and promote the wonderful practice of daily painting!
____________________________________________________________________
ABOUT THIS YOGA CLASS
Whether you are a painter, photographer, writer, woodworker, musician, or anyone who practices a creative expression – you know when you are in the flow: the time stops, and there is an incredible sense of purpose, presence, aliveness, and connection to something bigger than yourself.
This creative flow has qualities of stillness and presence, and that's why yoga is such a gift for any artist. When we come to our mats we practice awareness, quieting of the mind, feeling our body, following how we feel, letting go of the outcome, and simply being….And it is from this place of nothing and everything, where our breath is deeply satisfying and enough, the creativity flows.
Join us in creative exploration of using yoga to awaken the artist within: a yoga flow designed to spur your creative juices will open you up, reconnect you to your creative Self, and create space for your inspiration to flow.
This yoga practice will also address weakness and stiffness in the body that often come with the artistic expression. The yoga asanas will create space in the back, open the chest and shoulders, stretch the neck,  lubricate the wrists joints and allow the energy to flow more freely through the body.
The practice is suitable for all levels from complete beginners to advanced yogis, and options will be offered to ensure a wonderful experience for everyone. Please bring your mat and a water bottle.
The practice will be lead by Julia Karelina, a certified yoga teacher, who has a passion for creative expression through yoga and art.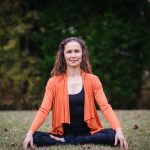 PAINTING TIME RIGHT AFTER YOGA
If you want to stay and paint with us after this yoga class, join us for 6×6 open space.  All details about 6×6 HERE.
CANCELLATION POLICY (NEW!)
If  we don't reach the minimum amount of students for this class to happen the class will be canceled and students will receive a full refund.
If you cancel less than 2 weeks prior to the start of this class you wont receive a refund. If you cancel before this time you will receive a refund of 50% of your class fee.
INCLEMENT WEATHER POLICY (NEW!)
Class will be canceled or rescheduled if inclement weather (hurricanes, snow storm, tropical storm, black ice, flooding, etc.) is on the forecast. No one should take any unnecessary risks. If the class is canceled, all registration money will be returned to the students minus 3% processing fee.  The class will be rescheduled if possible.