Description
DATE: April 28 – 30, 2020 – CANCELLED due to the COVID-19 outbreak.
TIME: 10:00 am to 5:00 pm (1 hour for lunch)
FEE: $595 (includes daily catered lunch by Sucre&Sel)
LOCATION: 1401 S. Bloodworth St. Raleigh, NC 27610
LEVEL:  All levels | STUDENTS: max. 18, minimum 12
PROMO: To all who register for this workshop this week (March 9 – 15, 2020), or previously registered, Rósisín is offering a free social media or website clinic!
E-MAIL: Closer to the start of the workshop we will e-mail you all logistics. Please make sure our e-mails go to your inbox and not to your spam folder.
PROMOTION: 
Would you like some feedback on your social media or your website?
Is your social media or website working for you? Does it bring in commissions, sales and inquiries. Does it act as a beautiful shop window to attract collectors and galleries alike?
Have you got so far but are a bit lost?
We are delighted to tell you that this week, March 9 to March 15, 2020, Róisín will be offering a free social media or website clinic to anyone who books into her Business Skills for Artists in Raleigh!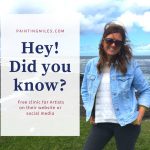 WORKSHOP DESCRIPTION
This workshop takes a dual approach that focuses on both the business skills and the creative person. Take a few days out of your busy life and take a breath. Learn how to be more productive, more professional and more creative without stretching yourself thin. Simply put, learn to make a business from your art!
CLICK HERE:  Róisín will tell you in a video who is this workshop for, and what is about.
Together we will explore:
Finding balance.
Creating opportunity.
Feeding our creativity.
How to find inspiration in a time-pressured world.
Overcoming mental and practical barriers to creative work.
Avoiding overwhelm and what to do when blocked. This is a workshop so you will be working on your own creative business, there will be some exercises to do each day and a load of resources and videos to take away. So… a lot to do, but along the way, there'll be time for some stories and we will have some fun doing and learning together and from each other.
What can you expect?
Róisín has been walking the walk as a professional artist for almost ten years and exhibits in established galleries in Ireland, the UK, Europe and the US. Hundreds (probably thousands) of students and customers later, she has taken everything she's learned about painting and being an professional artist and streamlined it into a clearly structured workshop full of enthusiasm and encouragement.
Róisín is not just an artist and creative entrepreneur. She also has many years of experience in giving workshops and teaching. From the serious business of passing on the tradition of creativity to the simple joy of painting, Róisín is committed and passionate about teaching, sharing and living creativity.
Although many established artists attend, you do not have to be an experienced artist to attend or benefit from the workshop. It will be a down to earth, inclusive experience, designed to give you a clear way forward for your creative business, in the good company of like-minded artists.
Social Media
How the world of social media has changed in the last 2 years.
What you really need to be doing and what is a waste of time. Why you need social proof and how to get it.
Marketing
The art of presenting your work to the right people.
How to find your audience. How to create a brand that is true to you and your work. How changing your marketing mindset will be more valuable than hiring a PR company.
Selling
Selling skills without the ick!
Selling at fairs, events, and online. The pros and cons of selling privately or through Galleries. The do's and don'ts of finding gallery representation. Pricing your work and handling discounts.
Time & Admin
Tools to help you get the important stuff done without working 24/7.
How to deal with procrastination, time management and setting and achieving your goals.
This is a workshop not a course so there will be plenty of time for us to work together and individually on your business. You will leave with work done and a plan that is tailored made to you.
BIO
Róisín was born to a family of talented artists. Her exposure to art from an early age offered her a visual apprenticeship to both classical and contemporary art. She paints bright, vibrantly colorful paintings in textured, buttery oils with a contemporary finish. Her work is influenced by a sense of home, and feature warm, light-filled period interiors, tumbled families of rain boots, vintage cutlery, and quirky china teacups.
First discovered in early 2009, Róisín work is in high demand in established galleries across Ireland, the UK and Europe.
To learn more about Rósín, go to https://www.roisinofarrell.com/
CANCELLATION POLICY (NEW!)
If a month before the workshop we haven't reached the minimum amount of students for the workshop to happen the workshop will be canceled and students will receive a full refund.
If you cancel less than 60 DAYS prior to the start of a workshop you will receive half of your registration fee, If you cancel less than 30 DAYS prior the start of the workshop you will not receive a refund. If you must cancel in this time frame we encourage you to find a replacement, and your replacement can reimburse you for your course fee. If you cancel before the 60-day limit you will receive a full refund minus 3% processing fee.  Unfortunately, students who start a multiple-day class and are unable to attend any portion will not receive a refund.
POLICY EXCEPTION FOR RÓISÍN'S WORKSHOP
We will refund 50% of your registration fee if you cancel up to a week before the workshop (April 21st). If we need to cancel due to the Coronavirus outbreak all registration money will be returned to the students minus 3% processing fee (Paypal fee per transaction).
INCLEMENT WEATHER POLICY (NEW!)
Workshop will be canceled or rescheduled if inclement weather (hurricanes, snow storm, tropical storm, black ice, flooding, etc.) is on the forecast. No one should take any unnecessary risks. If the workshop is canceled, all registration money will be returned to the students minus 3% processing fee.  The workshop will be rescheduled if possible for both parties.